&nbsp

American Quartz Banger Review: JM Glass CO
Recently our good friend over at Timeless Glass Gallery hooked it up with a new JM Glass CO quartz banger to review. I'm always down for some new quartz, so here's my thoughts and experience with the JM Glass CO quartz banger. For the purpose of this review, the banger was a 90 degree, 10 mm male.
As you can see from our site here, we enjoy our 10 mm female functional glass art, so this was a perfect fit for a lot of our pieces. At first glance, you can definitely see some tool marks on the bucket. These particular tool marks don't affect the function of the banger, so it's just an aesthetic thing, as you can see from the pictures. The weld, which has been the source of many a stoned argument over which quartz is superior. At the end of the day, when everything is made from the same GE214 quartz, one must find something to be judgmental on. The weld is usually that particular something.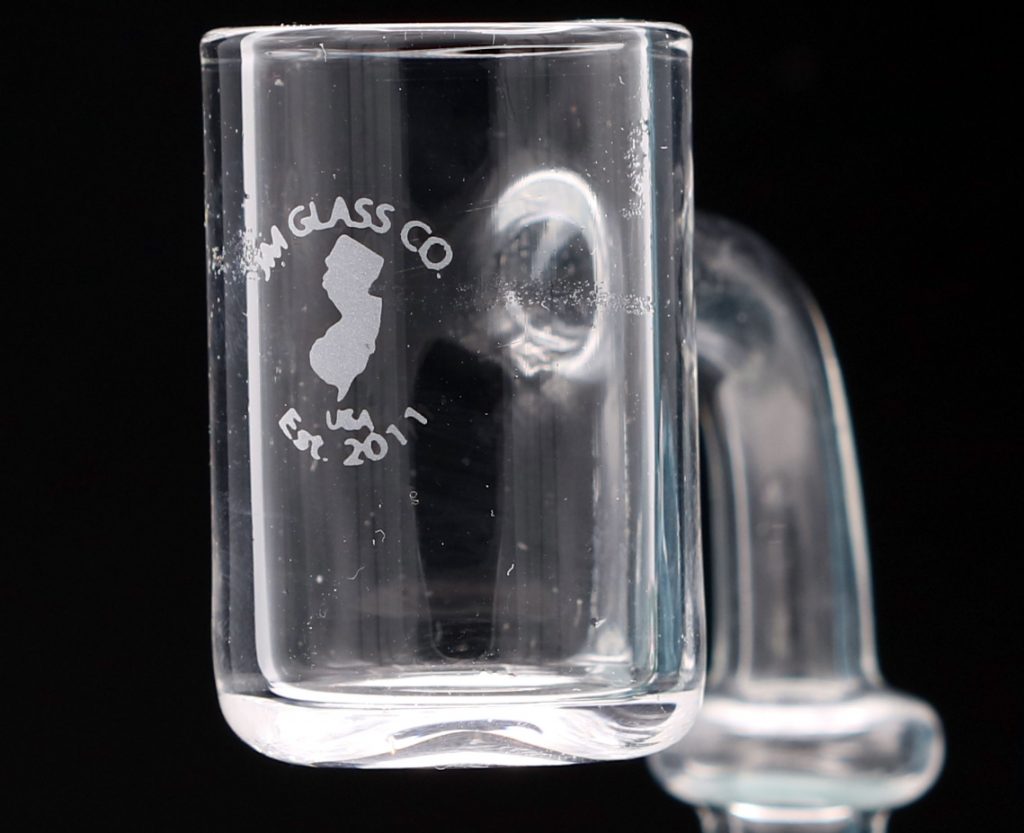 The weld on the JM Glass CO quartz banger is nice and clean, with very little if any indication that the bucket was attached to a tube. It's clean inside and out, with a nice amount of airflow allowed. Some of the china thermals we've seen have a squished or poorly welded tube, or just use a smaller tube where they attach to the bucket. This in turn restricts the airflow much more than on the quartz we typically see from American companies. This one is nice and open.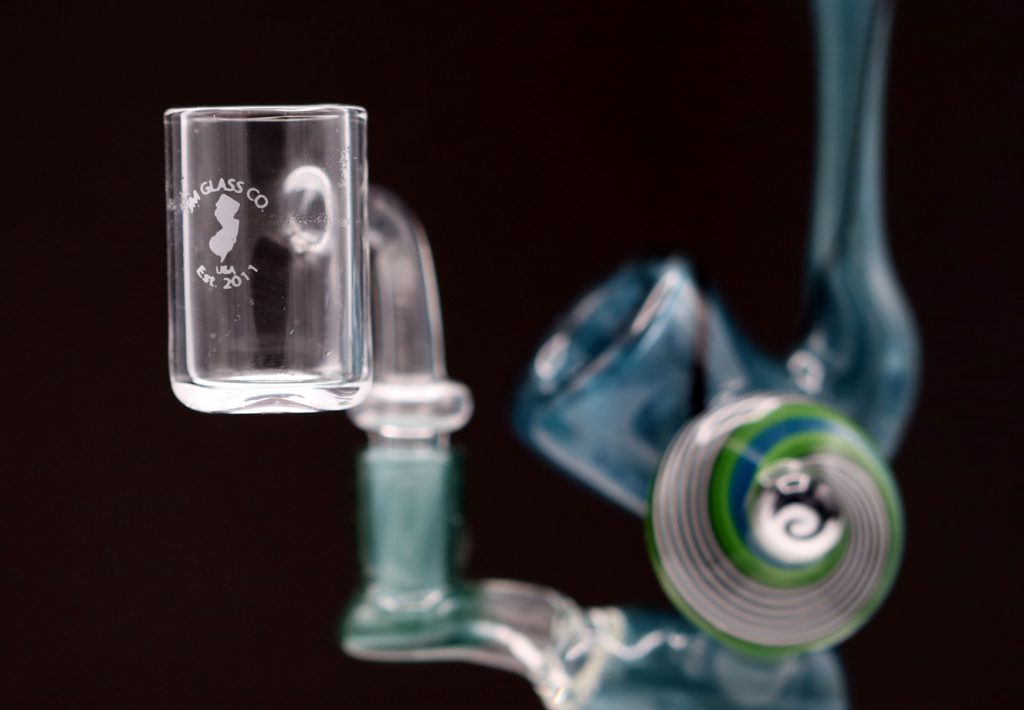 In the pictures, I had the Hetman Glass Sherlock piece helping to model the quartz. In the video below, I'm taking some dabs out of the custom Pop D Lucy and Illuminati Double Recycler. This piece is available here through the site, or hit me up on Instagram.
After the weld, the bucket is the next thing I notice. It's got a nice deep shape with a decently thick bottom and flat top. According to Timeless Glass Gallery, these JM Glass CO quartz bangers were produced in 2017 in New Jersey. The outer diameter of the bucket is 25 mm, and the inner diameter is 20 mm. As I mentioned before, the bucket is made from American GE214 99.9% pure semiconductor-grade quartz, and the joint is a scientific joint supplied from UST Glass.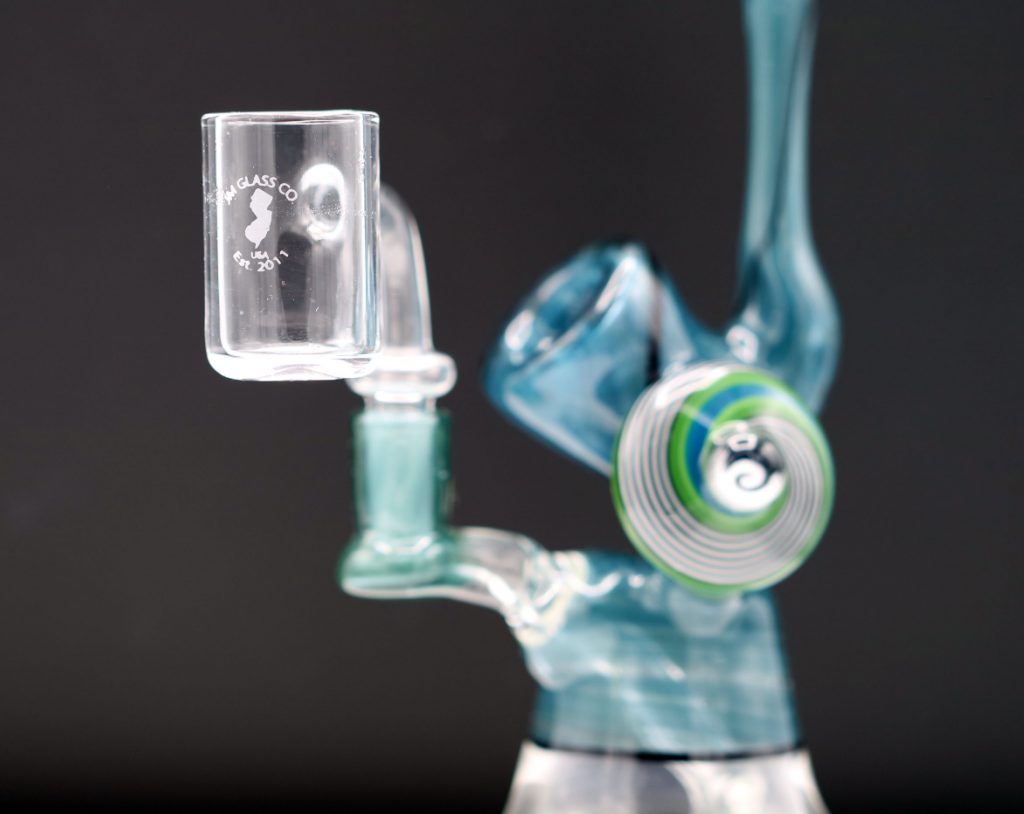 I've been using it for a couple of weeks now, and it hasn't done me wrong yet. As long as you keep it clean and qtip it out then give it a nice torch clean after each use, you can keep your quartz looking super fresh and clean. Definitely hit me up on Instagram if you have any questions. I'm going to keep using it and I'll report back if anything interesting happens. But as of right now, if you are looking for a nice, American made quartz banger, head on over to Timeless Glass Gallery and get yourself one of these JM Glass CO quartz bangers. They are currently $95.00.
If you are looking for a different sort of quartz shape, I would also recommend checking out the Jred Glass Diamond Knot. We currently have a few 10 mm male and 14 mm male Diamond Knots in stock. You can get one right now for $120.