&nbsp

Heady Glass Pendants – 3 Glass Artists Creating Classy Neck Deco
When it comes to heady pendant life, there seems to be two types of people. Those who like their glitzy gold pendants, and those who like their glass pendants. I'm more of a glass pendant sort of guy, so that's what we're going to talk about today.
Heady Glass Pendants
We have a lot of heady glass pendants on SPOG, but in this post I'm going to show you a few American glass artists that are making some of my favorite hand blown heady glass pendants right now. Heady glass pendants are so hot right now.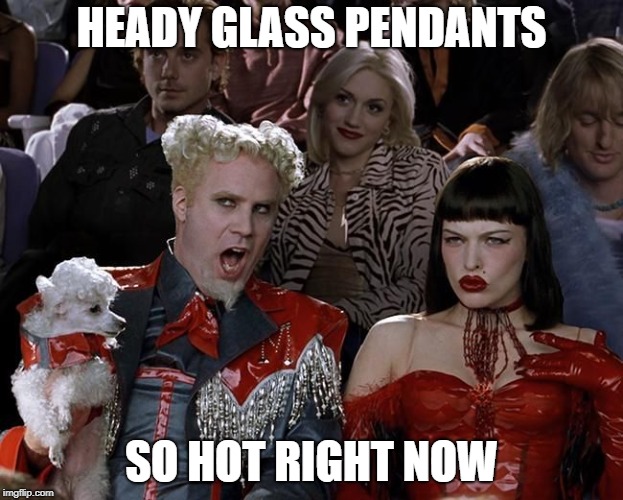 There's so many artists to choose from, so I feel like as curator of the Sweet Piece of Glass gallery, I should show you some of the glass pendants that I'm excited about right now.
Kaj Beck
The WonkaFarmer himself, Memelord Murrine Master Kaj Beck is the guy who drops WonkaStone treasure hunts from his IG page, the guy making the cool truck camping with the dog memes and WonkaFarmer hat stickers that are always a blast to put on other stickers to instantly transform them into Wonkafarmers. As a matter of fact, the Buddy Christ bobble head that sits on my desk is a Wonkafarmer.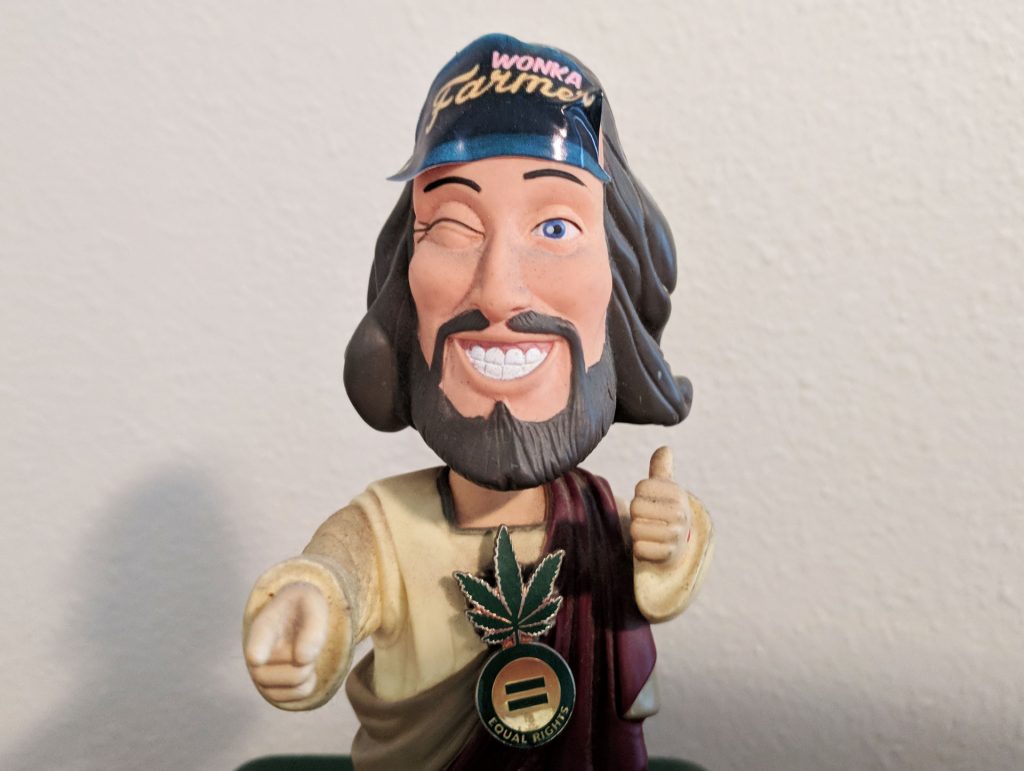 So what is a WonkaStone you ask? Next to the Gong Acid Eater, the Goose Glass Pineapple, and the Kaja Glass Microspiral pendants, the WonkaStone is one of my favorite heady glass pendant styles out there. I'm super excited that the WonkaFarmer was kind enough to break me off a piece of his time for a quick email interview. Enjoy!
Mat Lee: How long have you been working with glass?
Kaj Beck: 22 years. Since July 1996.
ML: Do you prefer making pendants vs functional work and dry pieces?
KB: I prefer pendants for the fact I enjoy collecting them. As an artist/craftsman I've found for myself it's best to make what you enjoy collecting. That being said, I also enjoy the path of problem solving my style of pendant has created.
ML: Does this have anything to do with the pain and aggravation some glass artists face when trying to use payment gateways online like paypal or anything to do with operation pipe dream? Seems like paypal frowns upon rigs and pipes but pendants and cups are totally fine.
KB: I think you're right about that.
ML: Take me through the process of WonkaFarming. From my amateur eye, it looks like milli or murrini / murrine (same thing?) on top of dichro with a color backing and a bale. But I feel like there's way more to it than that.
KB: You're on the right path. I pull murrini, stack them, back them, and voila, a Wonkastone is born.
ML: WonkaFarming, for some reason, reminds me of something that spawns from the Mary Pranksters and Ken Kesey. Is that my mind playing the synchronicity game, or is there some actual merry prankster inspiration there?
KB: When I got back to blowing glass after my speedflying injury I felt I needed a tag, to perpetuate the idea behind the magic of the medium, and Wonka was the perfect candidate. Everybody loves Wonka and the process of making some candy is very similar to making murrini.
Now for the Farmer part of the equation… When I decided to throw in the indoor grow towel, I repurposed the wood from my grow rooms into benches, kiln stands and raw glass racks.
And now we have WonkaFarm, this all happened very organically and very little thought was needed to be put into it.
ML: Where can people find you along the Get Stoned tour? Do you have a list of upcoming places or does it just sort of happen on the fly?
KB: On the schedule I will be at MELT in the Poconos Sept 10th through the 14th and immediately after I will be competing at Pipe Classic in Vermont at Bern Gallery September 17th 22nd. The pop-up shows are more of an "on the fly" approach, as I make my around the country working with other artists pop-ups generally happen in their town, kind of a way to keep the local vibe strong amongst communities.
---
You can follow the WonkaFarmer here on Instagram to keep up with the latest solo Wonkastone drops and follow the Get Stone_d page for collab and pop up events. Who knows, he might just be popping up to drop some stones in your neck of the woods with one of your favorite glass artists.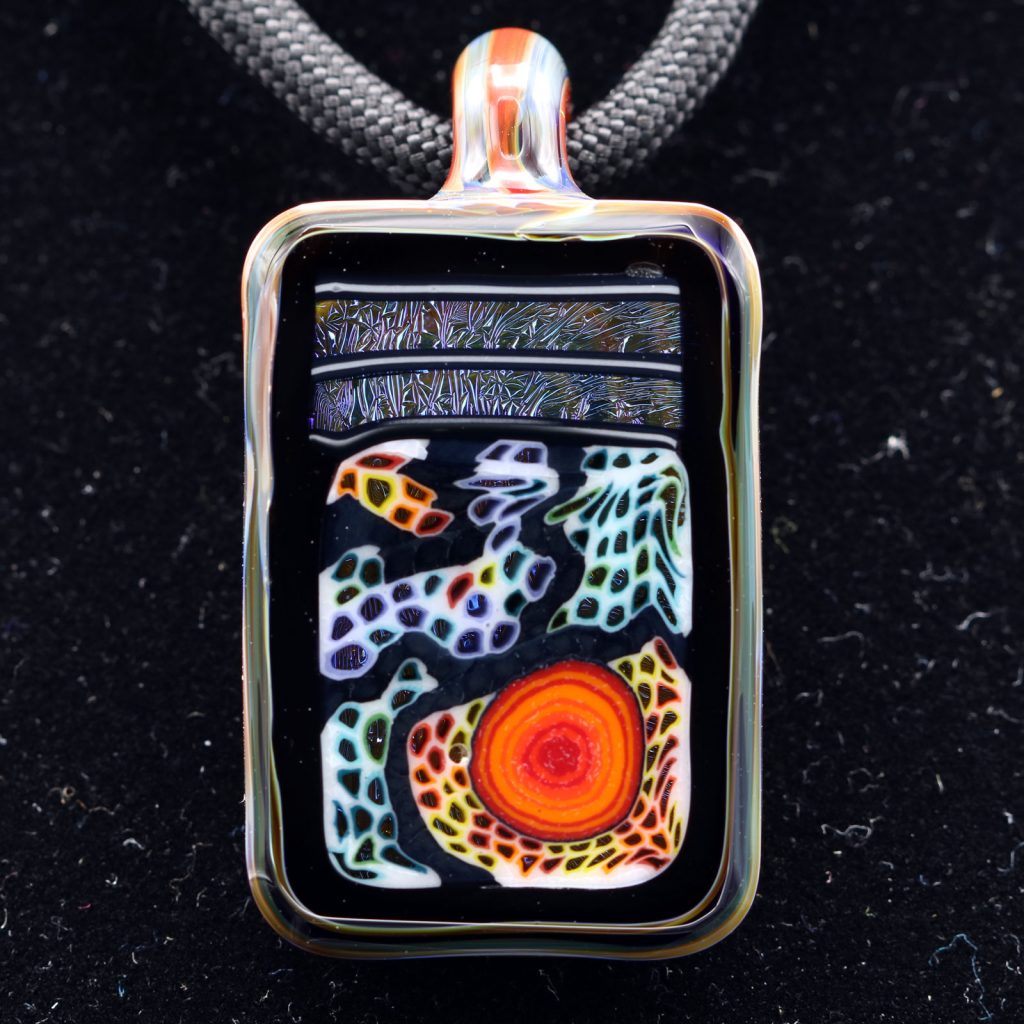 If you collect Starship Art Units, you can use them towards 33% of your Wonkastone purchase.
Kaja Glass
The master of microspirals and circletech, Kaja Glass aka Kyle Rich has been on the torch since the mid 90's. I asked Kyle about making pendants vs rigs or dry pieces, and he said he makes less than ten functional pieces a year. "I definitely would define my work as sculpture and wearable art."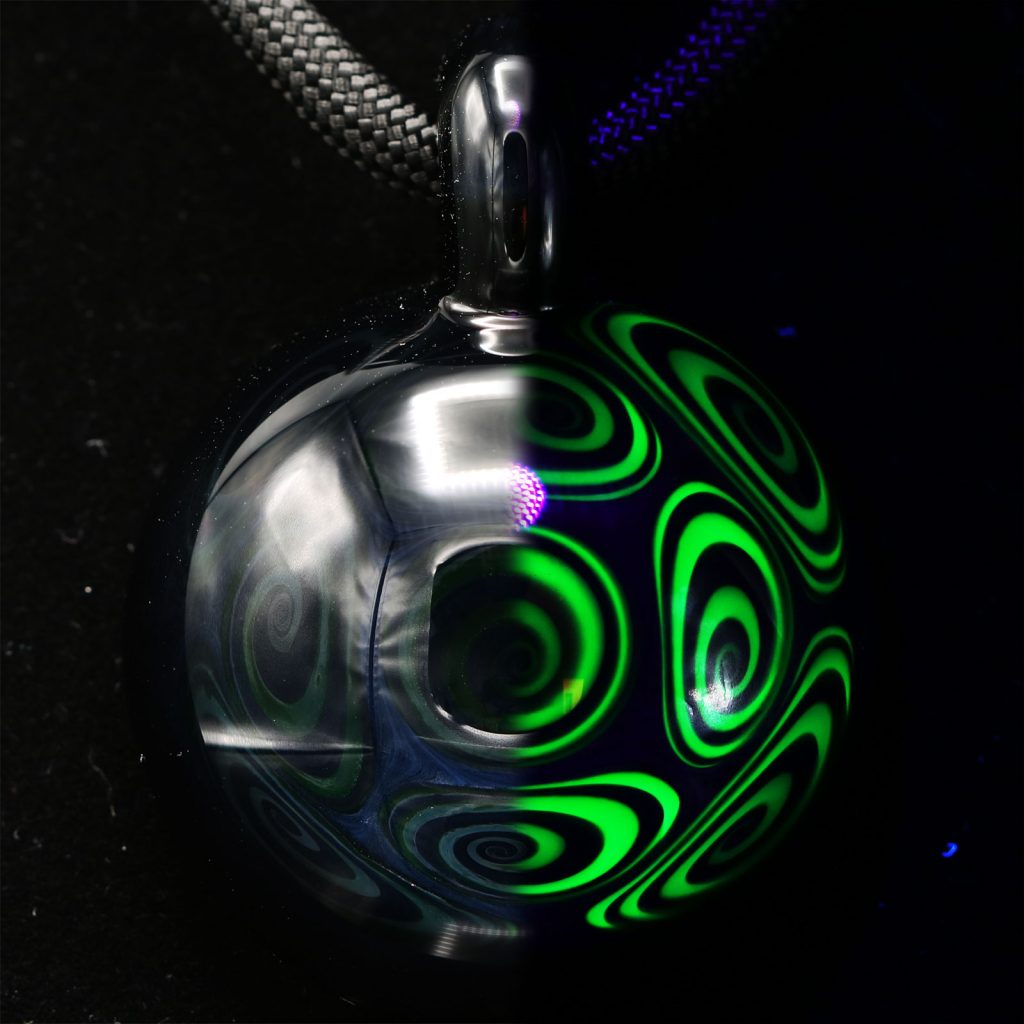 There's a few microspiral glass pendants available on the SPOG glass pendant page, but the best way to get one in the colors you want is to hit him up on Instagram. Every now and again he'll open up his custom list. Recently he was doing a custom color microspiral sale as a California fire relief fundraiser. Half of the proceeds of each pendant sale went to help out the Carr fire relief efforts. I'm super thankful to have met Kyle, and SPOG is excited to have a nice selection of his heady glass art in the glass pendant collection.
Goose Glass
I was first turned onto Goose Glass in 2017 when he was doing his 365 days of pineapple. As you can see, we added Pineapple 285 / 365 to the SPOG collection, and was even lucky enough to get a mystery box that had a sexy amber purple pineapple in it. When the BlueRazzberry Kush Pineapple dropped, being the nerd for blue that I am, that heady glass pendant was also added to the SPOG collection. There's a cup and a dry piece that also came with the mystery box, but those are NFS as they say.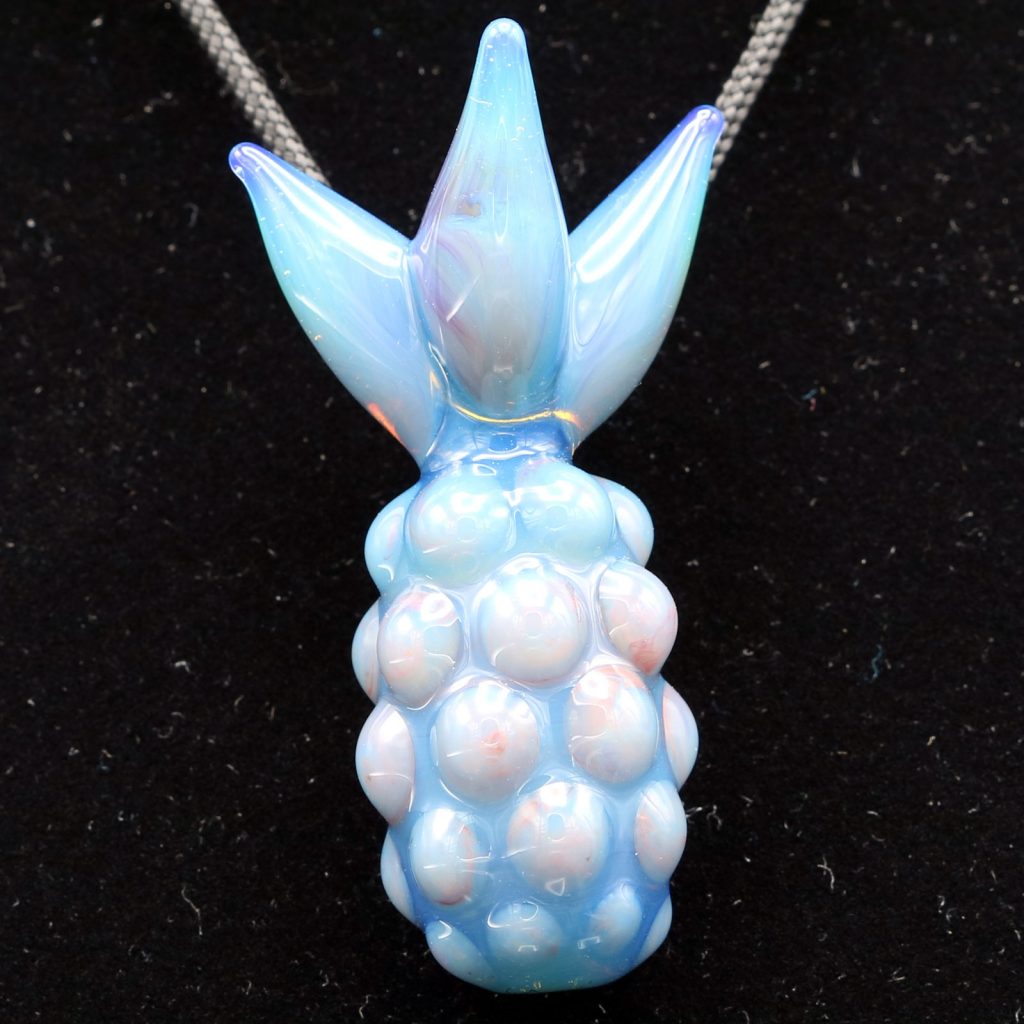 Greg was nice enough to sit down and answer some of my questions for this piece.
Mat Lee: How long have you been working with glass?
Goose Glass: I got my first torch in 2012; Been working as a full time glass blower for 4 years now.
ML: Do you prefer functional or making pendants and sculptures more?
GG: Personally I really enjoy solid sculpting, I think I would consider making large heavy sculptures as my favorite! Pipes will always have my heart though, while glass art has been around for centuries it's no secret that modern boro glass is deeply tied to pipes, and like most my first exposure to art glass was a pipe.
ML: What was it about the pineapple that made you want to do 365 days of it?
GG: The first pineapple pendant was a request from my wife. At that time my skills were not anywhere near where I wanted them to be, and working so small on such detail I think helped with some fundamentals of glassblowing. The inspiration for #365daysofpineapple came a couple years later after the design was much more developed. Watching the glass industry I saw constant change and a mad scramble for "the next thing" from carb caps to q-tip holders, and that I wanted no part of.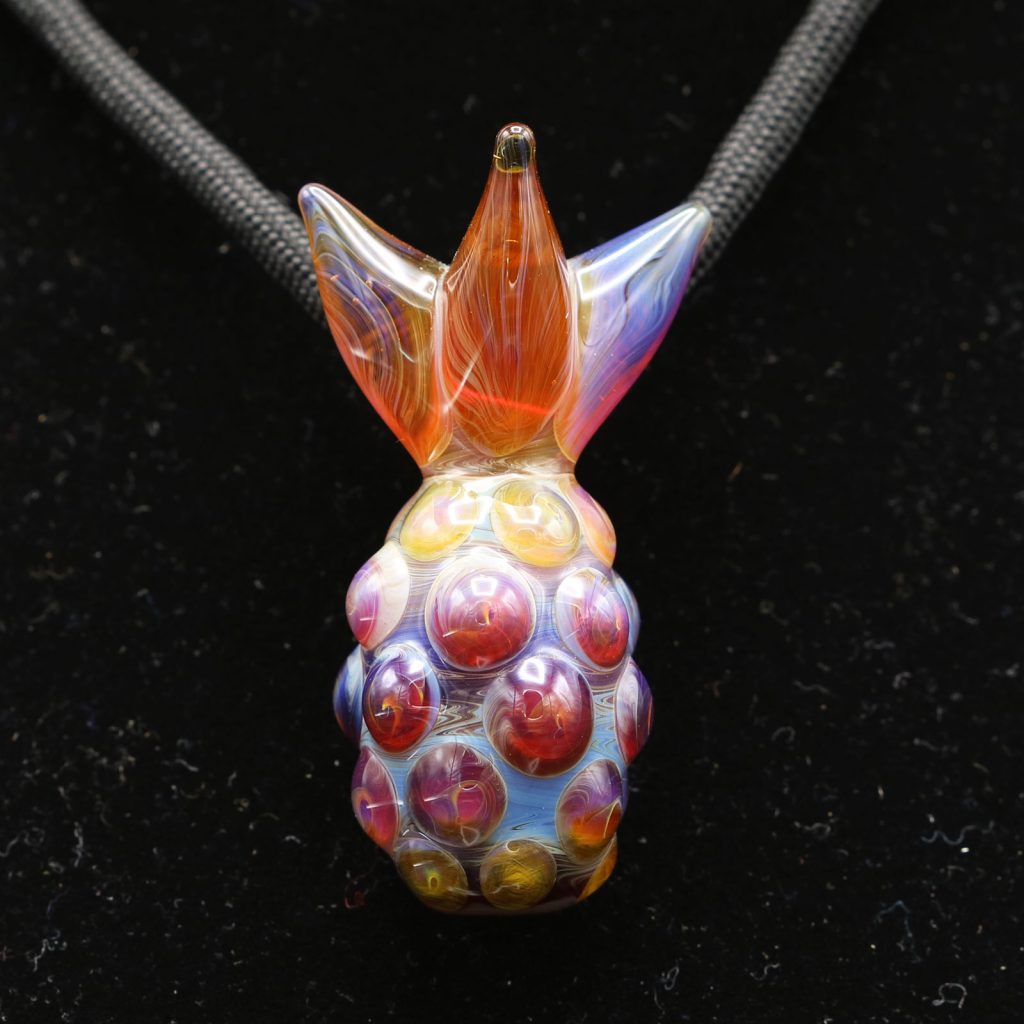 The entire idea was to use the same basic form over and over (365 times) and make each unique and individual. Rather than make the newest "hype" design, I wanted to really focus on my personal creativity for two reasons. Prove to myself that I am capable of being a creative as a career.  To develop a style or tech or whatever we call it along the way. Without using the hype design to make it. Such as my collage pattern! Or the Peyenapples, both of which I had never thought of until I was well into the project.
The badassness of the pineapple was truly an afterthought. In late 2016 I was brainstorming #365daysofpineapple, was thinking of a few different things as the base. But the pineapple always won out against any other idea at the time. Not only are they conveniently kind of hypey themselves for this generation (seems like lots of ppl have a pineapple love) but the history of them really coincides with the overall message I wanted to put behind my art.

After all, I'm not in this for the big bucks. I'm in this to try and make my corner of the world a little nicer place to be, and also enjoy myself while I do it.

Stand tall
Wear a crown
And be sweet on the inside.

I had never heard that till I was researching for my project. I have really put thought into that poem, and have come up with what I believe to be life lessons that truly define the message I wanted to be behind my work! Honestly with zero expectations that year of pineapples changed my life in multiple was all for the better! From my art to my outlook to my actions.
---
Definitely give Goose Glass a follow if you aren't already, he's one of the many cool cats that make this whole glass community what it is. If you want to see a bunch of satisfied pineapple owners, follow the Goose Glass Pineapples page on IG. Why do you think we love our pineapples so much? If you want to check out his available work, he has a Big Cartel page here.
I was pondering that while I was putting the finishing touches on this piece, and I think it comes down to this. Unfortunately, for better or worse, we are one of the many service industry generations. Whether we're staying in hotels or working in them, serving food, or eating it, it was, or still is a way of life for a lot of us, and along with that, the symbol for hospitality, and in a more marketing gimmicky way as you'll read on hotel flyers and brochures, friendship and that satisfying feeling of being welcome.
But go into any establishment without enough money for a stay, and you'll quickly learn that you're only welcome if you can actually afford to be. Which is fine, it's whatever. It's the simulation we've created and participate in day in and day out since the beginning of our time. Like I said before, it's unfortunate, but we've turned that symbol into something that makes us smile on the inside, and I think glass artists like Goose Glass have managed to embody that, encasing the feelings and emotions of the crowned fruit in glass for all to enjoy. I think, that in a way, the Pineapple is a symbol of that hospitality we create, for others and for ourselves, and it's ingrained into our minds as such. Plus, have you seen them? They are super cool to look at. I'm curious why you think we love pineapples so much?
The spill pieces Goose Glass has been doing recently are super cool, so make sure you are following him on Instagram to keep up with what he's creating, and to support the art.