&nbsp

Sage Doux the Heady Bone Carver
The glass community attracts such a novel variety of artists and art mediums, that in this piece, I wanted to focus on an individual who I learned of through friends and searching for cool stuff in rabbit holes. He goes by Sage Doux on Instagram, and he's the geometric bone jeweler.
If you have been lucky enough to win a piece of his art through the various auctions he holds on his IG page, then you are already familiar with the sort of visually satisfying relics he creates. When I first found his work back in April of 2017, he was holding bone dabber auctions. Perusing his feed prior to April 2017, and you'll see he's been busy making much more than bone pencil dabbers and bone fidget spinners.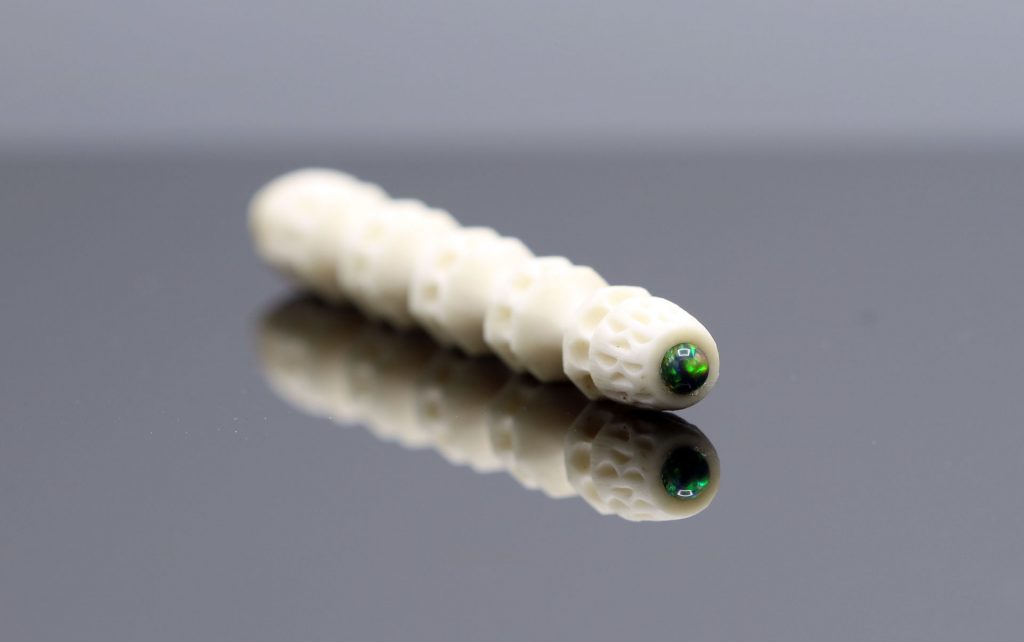 The carved bone pencil dabber number 3, inspired by considering sound waves in the third dimension, was my first Doux Relic. I'm not sure if it was the shaping of the instrument, or the medium of bone that first attracted me to his art. This was also the piece that taught me one must wipe the tip after dabbing with a bone dabber. If you do not wipe the tip, the dabs will stain the bone. This is also why I'm such a huge fan of his titanium bone dabbers. No need to wipe the tip, and to this day, they are in my daily dabber rotation.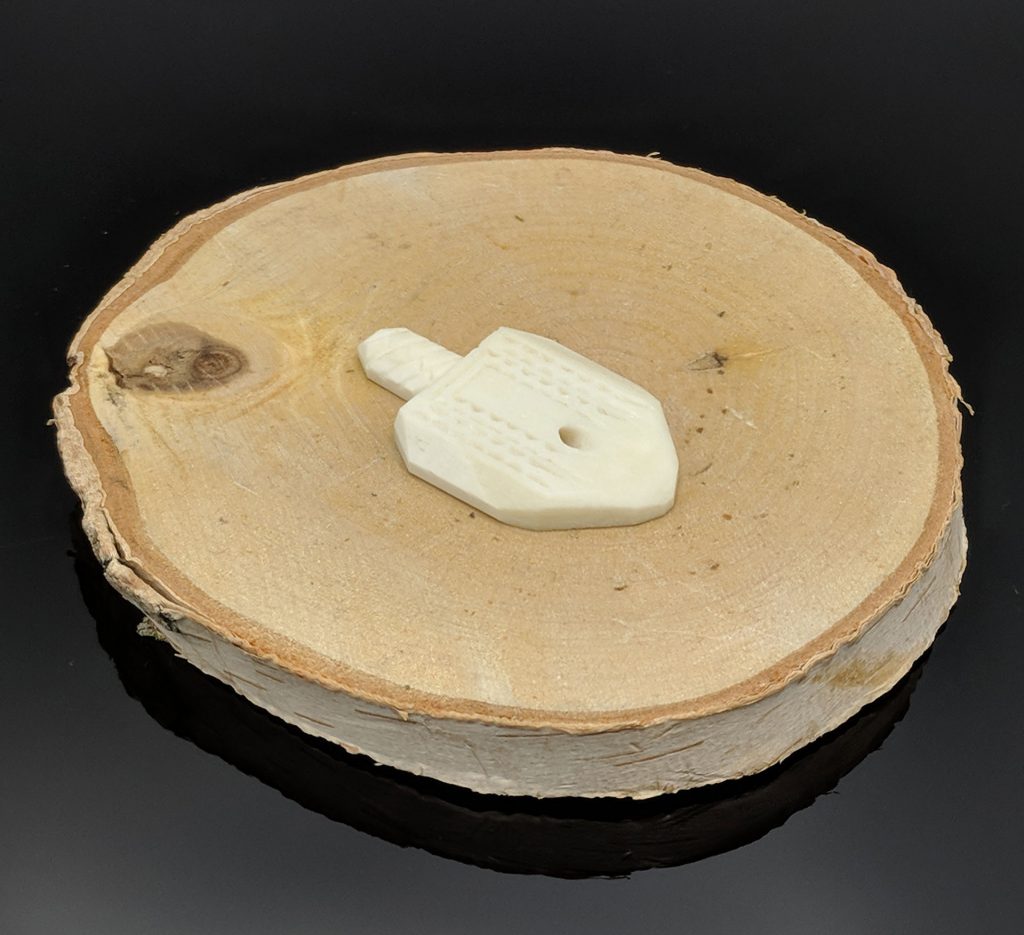 The second piece I picked up was the bone pencil dabber number 6, based heavily on the pillars from Disney's Atlantis. Something about it called to me. It's hard to explain unless you have been moved by art like that. My third Doux Relic, was the Carbcicle. A bone carb cap with a smooth back and slanted hole for super nice air flow. My personal Doux Relic collection was finally complete. Or was it?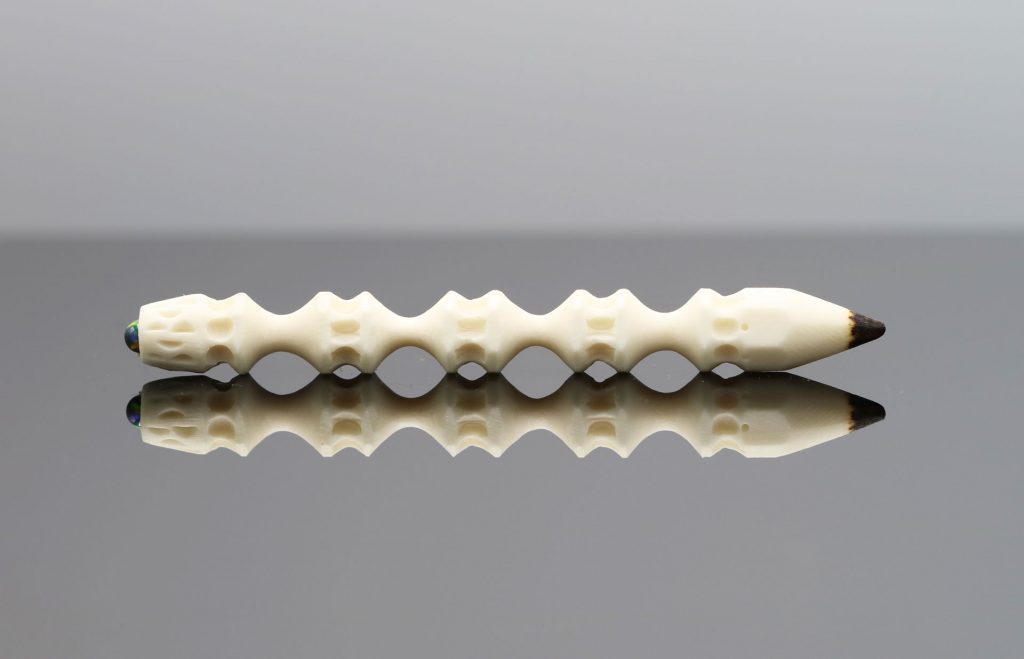 Next on my to Doux list, I picked up a couple of pendants. The Kukiki number 2, and the Symmetry Cookie number 3. I've been following along with his story ever since. I was curious though, how did he get into working with bone? Where does he come from? I had so many questions, I decided to reach out to the one person I knew could possibly give me the answers. The great and humble Sage Doux himself.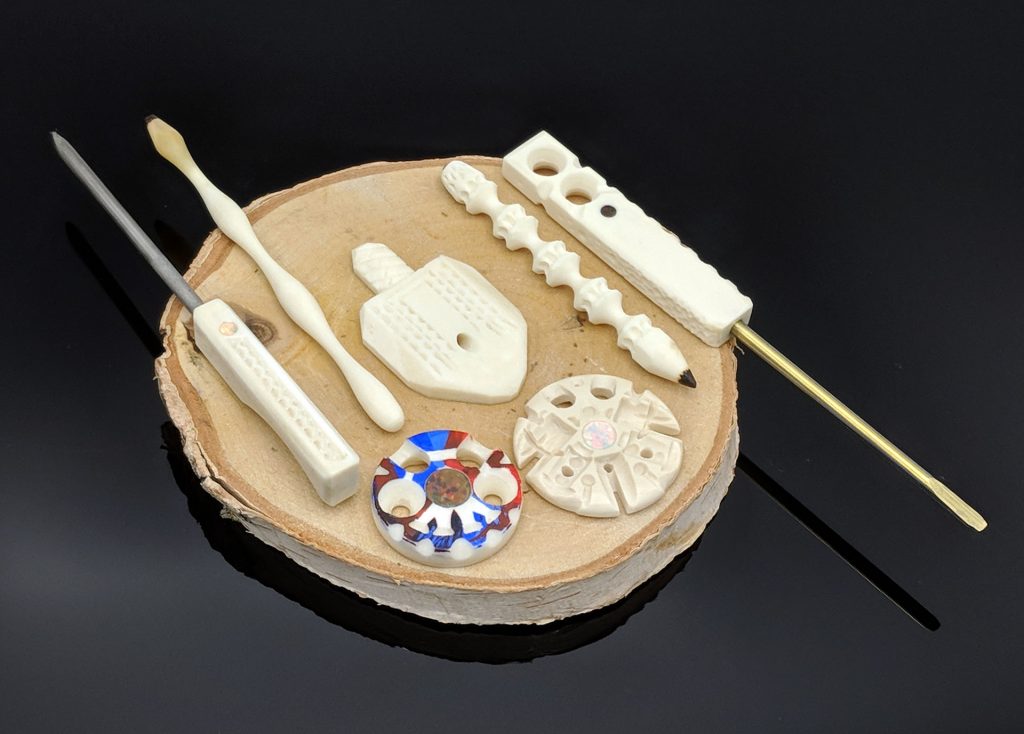 Mat Lee: How long have you been working with Bone?
Sage Doux: I've been working with bone for a little over a year. I worked at a headshop for over a year before being let go for questioning their withholding of information to the community, then started my own online gallery. Overtime this led me to want to be an artist rather than a middleman and realized how the focus was shifting in the marketplace towards craftsman rather than head shops. On Black Friday 2016 I bought a Dremel, with the intention of making a Dabber out of stone. I set up in the spare room with an e liquid dripper bottle to wet it.
After eight or ten hours of work I had a decent form coming along. Until it fell in half. Almost no pressure, it just collapsed. I was pretty heartbroken and emotionally done for the night. I decided to relax and watch some YouTube where I found some old men from Maui carving bone using the same tools I had just bought!
I figured there had to be a reason for that so I went to buy bone and made my first sword. I think that was my first time realizing the power of my ancestry and DNA. You see, my dad was a knife maker as a hobby, but this was before I was born. I've never actually saw him make a knife, and I've never really spent time holding one of his knives. But the first time I tried carving bone, I made a sword perfectly. Granted it took ten hours, but it was beautiful to me.
For the next while I continued to make swords and it never felt like learning, it just felt like remembering. It was the weirdest sensation and that feeling is really what showed me craftsmanship is a spiritual path. Since then its been crazy, I've even asked Tesla for help when making his portrait, and had him make fun of me which made me burst out laughing.
ML: How accepting was the glass community at first? Which artists do you feel inspired by?
SD: The glass community was super accepting. Since I started as a dabbing page just showing off glass most of my followers were in the community, and in the past I had worked at a headshop for over a year and ran my own gallery online for a bit, so I felt like I had a good knowledge base to offer and people respected that.
My growth in art was certainly heavily influenced by glass art and artists. People like Rye and Trevy Metal impressed me with how cleanly they were apart of the glass community, but they  mainly carved. At the time I was reading a book on being number one, and about how people best remember number ones, and over history the ones that have worked best have been fusions. Like Subaru fused the coupe and the sedan for the first time, now every car brand has one of those models but Subaru is best known for it and is still number one because they made the connection. I wanted to do this with bone and the glass community.
ML: Where are you based out of? What's the glass or heady scene like there?
SD: I'm based out of Asheville NC, and the scene here is growing so exponentially it's impressive. It sometimes catches me off-guard. I grew up here, and although I moved away for a while when my parents separated, and again when I went to college, I had to come back when the mountains called and get my own place.

ML: What other mediums do you want to work with eventually? Or is bone your one and only love?
SD: I've continuously thought that I would change mediums and always have something new on my horizon, but the more I try it the more I just find new ideas and new ways to carve bone. I'm a bone carver, it seems to be my path whether I like it or not. It comes naturally to me and I can't deny that.
ML: What artists would you love to collab with given the opportunity?
SD: Since I did sales for a couple years I've always have the gumption to go for the crazy goals, luckily my bucket list artists have already replied! Bob Snodgrass and Badback said they would love to do collabs in the future. I'm just waiting on a good time for them. I'm sure there's a lot more I will think of in the future, but those two have influenced me and my love for the community the most as far as growing.
ML: Thank you so much for taking some time out of your busy day to chat with me. It's been a pleasure.
If you want to get your own Doux Relic, make sure to follow him on Instagram. That's where he holds auctions and Doux Relic dibs sales. After using his work for about a year now, I can highly recommend it. As I said before, the bone titanium dabbers are constantly in my daily dabber rotation. There's just something about the way they feel that makes you want to hold it and run your fingers over it. They are very tactile friendly utensils.